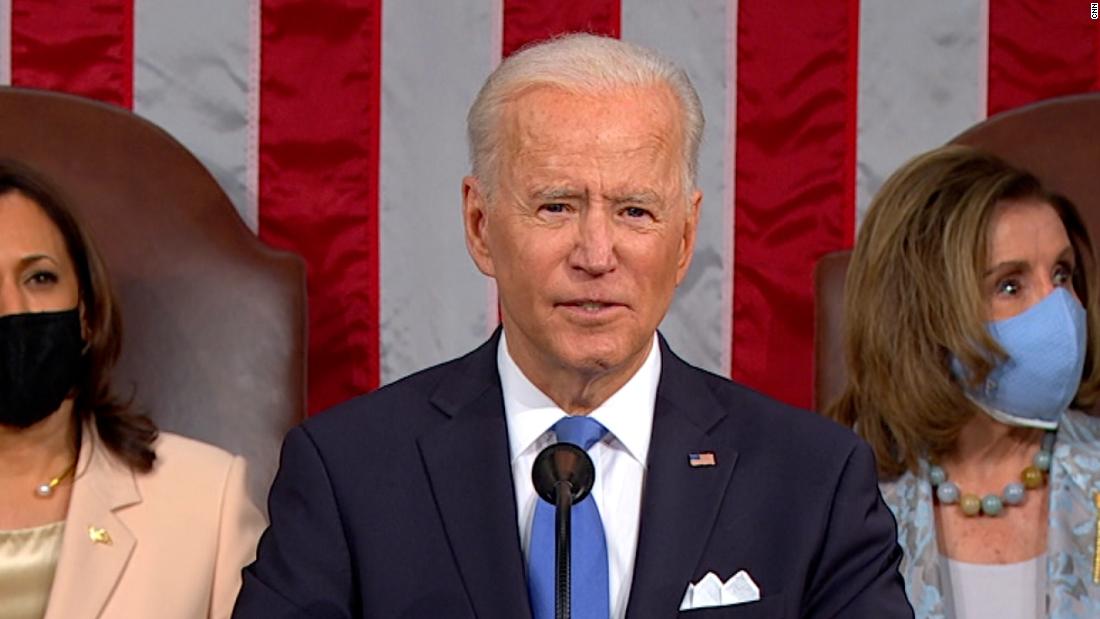 Fact-checking Biden's first joint address to Congress
Stephen, 2 weeks ago
0
8 min

read
14
While Biden's speech was, for the most part, factually accurate there were a few incorrect claims — notably at times when he went off script — and some that require context and explanation.
Biden repeated a claim he has made before about his relationship with Chinese President Xi Jinping. He said Secretary of State Antony Blinken "can tell you that I spent a lot of time with President Xi — traveled over 17,000 miles with him."
A White House official told CNN that Biden was making "a reference to the total travel back and forth — both internally in the US and China, and as well as internationally — for meetings they held together. Some travel was in parallel, some was separately to joint destinations." But that is very different from traveling "with" Xi, especially in the context of a point about how familiar he is with Xi.
Biden's infrastructure plan and the economy
President Biden said that "independent experts estimate the American Jobs Plan will add millions of jobs and trillions of dollars to economic growth in years to come."
Facts First: It's true that some experts say the plan could create millions of jobs, but analysts differ on how much economic growth it could spur.
The American Jobs Plan proposes spending $2 trillion on improving the nation's infrastructure and paying for it by hiking corporate taxes. Some independent analysts say it will have a positive effect on jobs and the economy — but the magnitude of its effect will depend on the size and structure of the package that Congress ultimately passes.
Moody's Analytics projects that the infrastructure plan will result in a higher GDP over the next decade. It predicts GDP will grow by 3.8% in 2024, compared with 2.2% if the plan fails to become law.
S&P Global also found that that much infrastructure spending would boost the economy over the next decade adding $5.7 trillion over that time period. It estimated that GDP growth will be lifted to 2.2% from 1.7% over the next 10 years.
Biden's infrastructure plan and education
In arguing that his infrastructure plan would create well-paying jobs for Americans, President Biden said that "Nearly 90% of the infrastructure jobs created in the American Jobs Plan don't require a college degree. 75% don't require an associate's degree."
The forecast predicts that 16% of the jobs could go to those with education levels below graduating high school, 37% could go to those with a high school diploma, 14% to those with some college education but no degree, 8% to those with a postsecondary vocational certificate and 10% to those with an associate's degree.
Again, this is just one forecast of the potential effects of a plan not yet passed by Congress.
Biden on his work on root causes of migration as vice president
President Biden said, "When I was vice president, the President asked me to focus on providing help needed to address the root causes of migration, and it helped keep people in their own countries instead of being forced to leave. The plan was working. But the last administration decided it was not worth it."
Facts First: Biden didn't specify the program, but it's true that the Obama administration set up a program to provide safer pathways to the United States that was later terminated by then-President Trump.
During his tenure as vice president, Biden led diplomatic efforts in Guatemala, Honduras and El Salvador after a growing number of unaccompanied minors from those countries began arriving in the US in 2014. The Central American Minors program was among the efforts.
The program allowed children under the age of 21 with parents lawfully living in the US to seek entry into the country from their places of origin if they did not qualify for refugee protections but were still at risk of harm. It served as an alternative for parents who might otherwise turn to smugglers to bring their children to the US illegally. While it might not have helped "keep people in their own countries," it was intended to keep them from being forced to try illegal, and dangerous, methods of immigration.
Seniors vaccinated under President Biden
Biden said that "When I was sworn in on January 20th, less than 1% of the seniors in America were fully vaccinated against COVID-19. 100 days later, nearly 70% of seniors in America over 65 are protected, fully protected."
Facts First: While the numbers on vaccinated seniors that Biden cites are largely true, and his administration has made great strides in vaccinating Americans, Biden has benefitted from timing. When he took office in January, vaccines had only just been made available and some seniors were only newly eligible.
In the US, the first person received a vaccination dose outside of a clinical trial on December 14 and Biden took office a little more than five weeks later on January 20. The recommended time between the first and second shot of the Moderna vaccine is 28 days and 21 days for the Pfizer vaccine.
Biden's claims about women leaving the workforce
Biden said that 2 million women dropped out of America's labor force during the pandemic, often "because they couldn't get the care they need for their family, their children," he added.
Facts First: Biden is actually understating the number of women who left the labor force during the pandemic.
Women have been hit harder by the pandemic in part because they account for a disproportionate share of workers in sectors that have been most affected by the pandemic, including hospitality and leisure.
The employment-population ratio for America's women stood at 52.8% in March, down from 55.8% before the pandemic but up from its low during the first wave of the pandemic when the economy ground to a halt.
Related posts
Common Symptoms Of COVID-19
The CDC has a collection of nine Roche antibody assays designed to provide rapid results from COVID-19 rapid antigen test. If you are a potential carrier of the human papilloma virus (HPV) and are looking for HPV testing kits for the home, it is important…